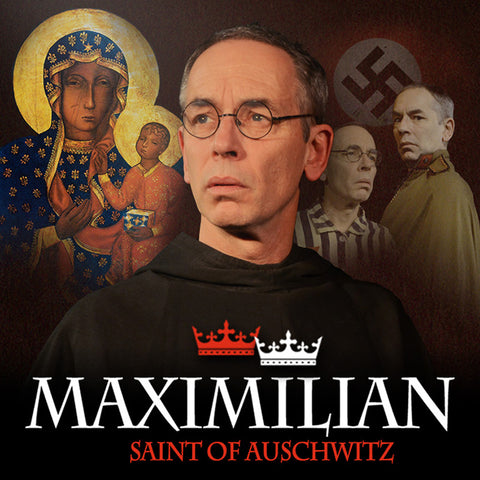 Maximilian Drama Performance (Stream on your favorite platform or purchase $5 download.)
---
---
Free shipping on all orders over $50! (Excludes Icons) *USA only
---
NOW STREAMING! Click on your favorite streaming platform to listen.
This Product 
MP3 Download
Maximilian: Saint of Auschwitz Audio Drama Performance
Meet Saint Maximilian Kolbe, the Franciscan priest who willingly suffered death at the hands of the Nazis to save the life of a fellow prisoner in the concentration camp of Auschwitz. His moving story is brought to life by actor Leonardo Defilippis in this powerful one-man audio drama adapted from our live stage production.

As the riveting plot unfolds, Defilippis switches effortlessly between portrayals of Maximilian and his Nazi persecutors in the dramatic struggle between good and evil. Through it all we witness his trust in Mary, the Mother of God, permeating his every action.
Enhanced by an original musical score by Randall DeBruyn, the drama of this saint's heroism touches the heart, and his love for Christ and His mother is an inspiration for our age.  
84 min
Click here for a Help File on how to download and play an MP3 file. 
Add to Cart, and your Download Link will be generated after checkout.  

MP3 Audio Download


---
We Also Recommend
---