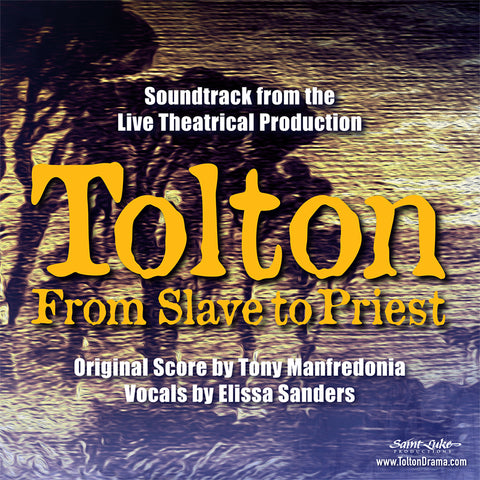 Tolton: From Slave to Priest Original Soundtrack (MP3 Digital Download)
---
---
Free shipping on all orders over $50! (Excludes Icons) *USA only
---
This Product MP3 Download




Original Soundtrack from Tolton: From Slave to Priest Drama
Add to Cart, and your Download Link will be generated after checkout.  
Click HERE for a Help File on how to download and play an MP3 file. 
While we do not have staff who can provide technical support services for your devices, we have attempted to demonstrate the most common methods for downloading and playing an MP3 file for those who have never done this before.  PLEASE download the HELP FILE above NOW and then complete your checkout.  
Saint Luke Productions' live drama, Tolton: From Slave to Priest, the story of the first African American priest, features a moving score by composer Tony Manfredonia. 
This album features the entire musical score with vocals from the drama as performed by Elissa Sanders.
A Message from the Composer
"Throughout my career as a composer, I've written mainly concert works, video game soundtracks, and most recently, operas. While fulfilling, these were nothing quite like creating the score for Tolton: From Slave to Priest. From studying Father Tolton's journey, to incorporating spirituals of his time, the process brought me even deeper into my relationship with Christ. It's been nothing but a blessing to provide my God-given gifts back to the Lord through Tolton!"
Length: 42 min
Please note that these files cannot be downloaded directly from an iPad or iPhone. You will first need to download the file to your Mac or PC and then add them to your mobile device using iTunes.
MP3 Audio Only
---
We Also Recommend
---