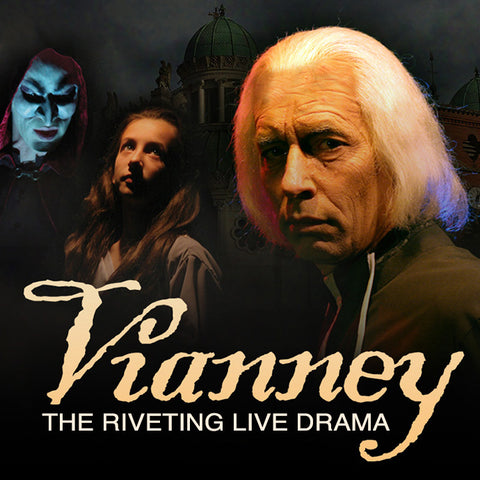 Vianney - Drama Performance (AUDIO CD)
---
---
Free shipping on all orders over $50! (Excludes Icons) *USA only
---
NOW STREAMING! Click on your favorite streaming platform to listen.
   This Product Audio CD
A homely peasant who nearly flunked out of the seminary, Jean Vianney is sent to the obscure and faithless French village of Ars. There the devil, threatened by this pastor's zeal for souls, regularly visits the rectory to tempt and torment him, even trying to smash the furniture. At first people are hostile to the Curé of Ars, but eventually twenty thousand pilgrims a year travel to this tiny town to hear him preach and to receive God's forgiveness from him in the confessional. Skeptics and curious tourists find their lives transformed by the prayer, penance and perseverance of Saint Jean Vianney, the patron saint of priests.

Vianney is performed by Leonardo Defilippis and adapted from our live stage production.

84 min 
This is a two CD package and features original music.
 Audio Only
---
We Also Recommend
---